SilverLining Painter Featured in June 2018 NY Magazine!
Gilbert Butcher, a longtime painter and master of his craft, is featured in the June 11, 2018 issue of New York Magazine!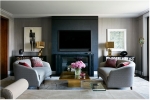 Builders of 2018 NYCxDESIGN award-winning Small Apartment!
SilverLining built the NYCxDESIGN 2018 Small Apartment Award Winner with Pembrooke & Ives. Check out the full list of award winners here!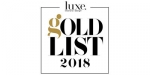 Luxe 2018 Gold List
SilverLining honored in Luxe Magazine's 2018 Gold List.